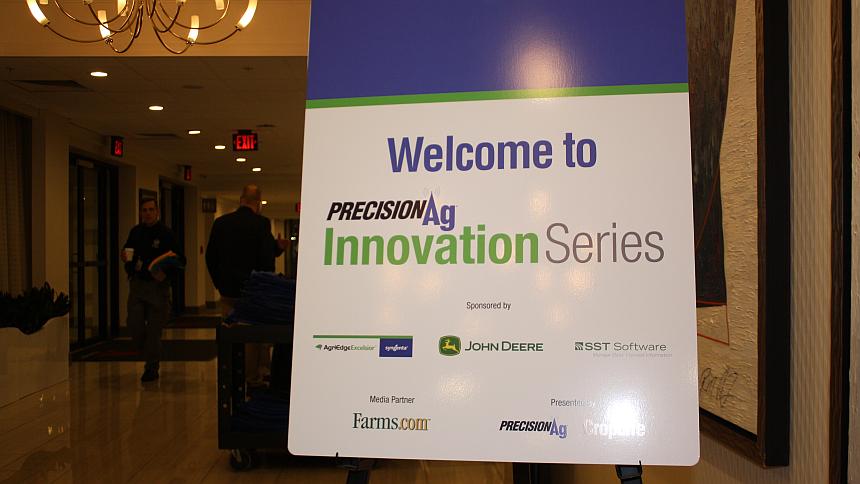 An impressive lineup of topics, speakers and panelists was only part of the reason that ag data stakeholders attended the last PrecisionAg Innovation Series event, "Agriculture and Data: Finding What Works." The other was unmatched networking opportunities with leading individuals and organizations.
The conference was on January 26 at the Marriott Airport in St. Louis.
More than 200 individuals representing 100-plus organizations attended, including the following:
A & A Farm
Aerovironment Inc.
AFBF
Ag Info Tech, LLC.
AGCO
AgGateway
AgIntegrated, Inc
Aglytix
Agren
Agrible, Inc
AgriCapital Corporation
AgriNews Illinois
agX
AMVAC Chemical
ARMtech
aWhere
Bayer Crop Science
BCA Ag Technologies
Beck's Hybrids
Brighton Agency
Bruce Klein
Capstan Ag
CDMS
Central Advantage
Ceres Solutions
CHS Shipman
CNH Industrial
Co-Alliance
Conservis Corporation
CPS/ Dyna-Gro
Crop IMS LLC
Crop Production Services
CropMetrics
Crystal Valley Cooperative
Decisive Farming
Dow AgroSciences
DTN / The Progressive Farmer
Dupont Pioneer
DuPont Pioneer, Encirca Services
EFC Systems
Evergreen FS, Inc.
Ernst & Young
Farmers Edge
FarmLink
Field to Market: The Alliance for Sustainable Agriculture
Friest Farms Ltd
G M Lawrence And Co
General Mills
Geosys
GfK
Greenpoint Ag
Grower Information Services Cooperative (GiSC)
Growmark FS, LLC
Harding Loevner
Hat Trick Farms Inc
Heartland Co-op
Heartland Farms, Inc.
Helena Chemical Company
HFI Enterprises
INEX Advisors/ IoT Impact LABS
JD Equipment Inc
John Deere
Linak-US
Lone Star AGROnomics
Meister Media Worldwide
Missouri Agribusiness Association
Monsanto
MZB Technologies
Northern Country Coop
Pistorius Farms
Pitstick Farms
Pixo
Precision Consulting Serivces
Prime Meridian
ProAg
Raven Industries
SageInsights
Simplot Grower Solutions
South Dakota State University
Spensa Technologies
SST Software
StateLine Cooperative
The Climate Corporation
Three Rivers College
Topcon Precision Ag
Tri-County Chemical, Inc
Trimble Agriculture
United Suppliers
University of Michigan
Us Department Of Agriculture
Valent USA
Van Horn
Vermeer Corporation
Weather Decision Technologies
Wentworth Family Farms
West Central Coop
Wilbur-Ellis
William Blair & Company
Winfield Solutions
XSInc.
"This was the second installment in our PrecisionAg Innovation Series, and much of what we did with this event was based on suggestions from our conference last August in Champaign, IL," notes Paul Schrimpf, Executive Editor of PrecisionAg, which hosted the conference. "We heard much more from the farmer perspective, along with sessions focused on existing and promising value-generating ideas and initiatives for agriculture data."